Generational Care at Go Dental Surgery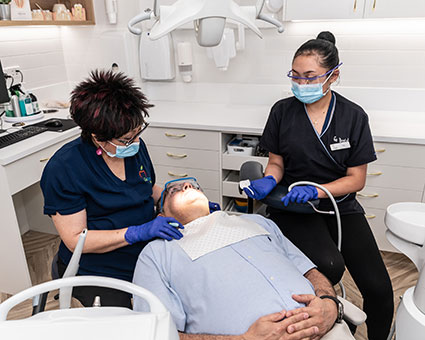 Serving Gosnells Families Over 40 Years
For over four decades, our mother-daughter dental team has served the comprehensive oral health needs of Gosnells families like yours.
Our dentists – Dr Janie Goh, Dr Tiffany Goh and their associates, focus on more than just your teeth. To us, a brilliant smile is a reflection of a healthy lifestyle and self-confidence.
We provide essential dental services to patients of all ages. Depending on what your specific concerns are, you can benefit from the following therapies.

Want to Learn More?
What are you looking for in a Gosnells dentist? At Go Dental Surgery, we invite you to be part of our family! Find out for yourself why we've had four generations of patients continue to entrust their smiles to us. Contact us today to schedule a new patient exam.
CONTACT US

*Any invasive or surgical procedure may carry risks. Before moving forward, it is recommended that you seek a second opinion from an appropriately licensed medical professional.

Our Services | (08) 9398 1427