Fillings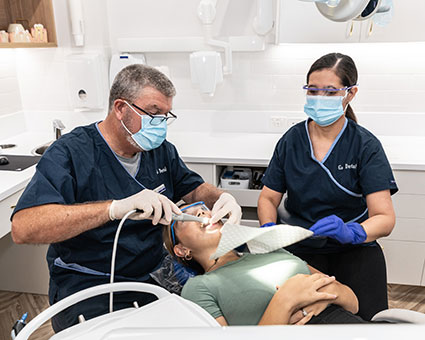 Cavities can develop when you least expect them. While a toothache may indicate the presence of a cavity, other times, you can have a cavity without any sensitivity
Children and adults alike are prone to cavities, which can be attributed to diet and oral hygiene. If your diet is high in carbohydrates, sugars or acids, the result is an increase in levels of plaque which can weaken tooth enamel. If you don't thoroughly brush and floss each day to remove the plaque a cavity can develop.
Signs That You Might Require a Tooth Filling
Wondering if you may need to get a tooth filled? Here are some common signs:
Damage to a previous filling
A chipped or fractured tooth
Holes in teeth
Sharp or throbbing or pain
Tooth Filling Options
It's essential to address tooth decay straightaway. By doing so, you can avoid having a root canal or crown. A filling is a tooth-coloured or amalgam restoration that can replace the missing tooth structure. Your tooth will have its strength and function back.
At Go Dental Surgery, we treat every case differently as the degree of damage to the tooth will vary from patient to patient. Your dentist will carefully assess your condition before making a recommendation.
What to Expect During Your Appointment
First, we will thoroughly numb the tooth that needs to be filled to prevent any discomfort or sensitivity during the procedure. Next, your dentist will remove the damaged surfaces of the tooth and place the filling material. If you choose a composite filling, we carefully match the shade of the restoration with the colour of your surrounding enamel. Lastly, a bright light is used to cure the filling in place.
Contact Us Today
Remember, early intervention is vital as small cavities are easier to repair. If it's been a while since your last a checkup and clean, contact Go Dental Surgery today!
*Any invasive or surgical procedure may carry risks. Before moving forward, it is recommended that you seek a second opinion from an appropriately licensed medical professional.

Dental Fillings Gosnells, Maddington WA | (08) 9398 1427