Dr Janie Goh, BDS (Dentist)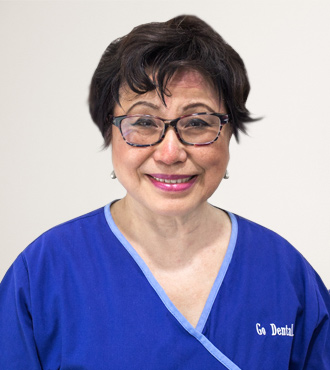 Dr Janie Goh graduated and practiced in Singapore in 1973, prior to moving and setting up this current practice — formerly known as Dr Janie Goh Dental Surgery, in 1978. She finds it interesting that many patients have dental phobia and she is committed to creating a relaxing dental experience for all her patients.
Treating patients as a whole is important! I focus not only on your dental needs but also your overall health and nutrition.
Dr Janie Goh
Dr Janie knows that oral health affects your whole body. She believes that prevention of cavities and gum disease is key for obtaining and maintaining optimal oral health.
For over 40 years, Dr Janie has been educating her patients on proper brushing, flossing and the important of routine cleanings and checkups. Her longtime patients are very grateful that she took the time so many years ago to educate them on proper home care.
With proper care, a smile really can last a lifetime!
Why Dentistry?
She loves people! Above all, Dr Janie cherishes the relationships she builds with her patients. When you see Dr Janie you are much more than just her patient. You are like family and will be provided with the same level of care she provides for her own family members.
She sees many geriatric patients as her main focus is on the aging population. She enjoys helping patients regain their smile and have full function once again.
On a Personal Note
Outside of providing excellent dental care, Dr Janie is involved in church and church activities. She has two children (one in London, one in Australia) and two grandchildren. She loves going for long drives and visiting gardens and vineyards.
Dr Janie stays current on all professional development requirements and is a member of the Australian Dental Association.
Book An Appointment
Contact us today and let Dr Janie Goh help you reach your dental goals. She looks forward to welcoming you to the Go Dental Surgery family.
CONTACT US
*Any invasive or surgical procedure may carry risks. Before moving forward, it is recommended that you seek a second opinion from an appropriately licensed medical professional.

Dr Janie Goh | (08) 9398 1427