Root Canal Therapy
In-house Endodontics in Gosnells
When you have a toothache, there is a likelihood that the discomfort is caused by an infected nerve. Infection is typically due to a deep filling or cavity that is close to the nerve, causing it to flare up.
To alleviate the pain, our Gosnells family dentists can either extract the tooth or remove its nerve and restore it with a crown. Most people refer to this type of nerve treatment as a root canal.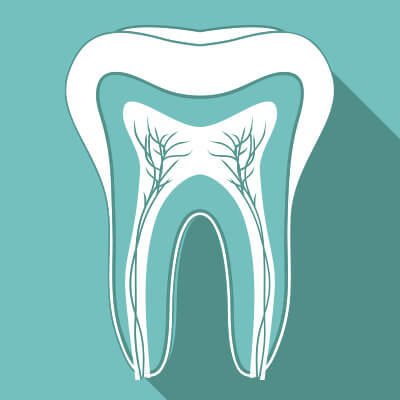 What to Expect
Treating your infected nerve is usually a process that we break up into three stages:
Stage 1 – During the first appointment, we remove the infected dental nerve. Then, medication is placed inside of the tooth to eliminate any germs and provide pain relief.
Stage 2 – Next, we prepare and widen the nerve chambers before placing a filling that extends into the canal.
Stage 3 – No later than a few months after the root canal is completed, we will recommend having a crown placed over the tooth to protect it from the risk of fracture. This restoration is necessary because non-vital teeth are extremely prone to chipping or wear.
Frequently Asked Questions
Even though nerve infections frequently cause pain, it is possible to be completely free of discomfort, and have something still be wrong with the tooth. Symptoms can also include a boil on the gums. An X-ray may be necessary to determine the extent of the nerve infection.
Can I take pain medication before a root canal?
We recommend taking over the counter medication like ibuprofen prior to a root canal, but there is rarely a need for anything stronger. Because we use an anaesthetic, you'll be comfortable and won't feel any pain during the procedure. You'll likely be numb for an hour or longer after, as well. Following your root canal, you're able to take anti-inflammatory medication as well.
How long will my root canal take?
A root canal appointment with us takes roughly one to one and a half hours to complete. We'll likely need to see you back for an additional visit to make sure that everything looks well and healthy.
Is getting a root canal painful?
In our practice, we pride ourselves on offering patients the best possible care in a comfortable setting. If you need a root canal, we'll always employ the use of an anaesthetic to ensure you're relaxed and receive the best results. If you're a nervous or anxious patient, we can discuss the need for a higher impact sedation.
If I need multiple root canals, can they be performed in the same day?
It is possible to undergo multiple root canals in one day, though we may space out your treatment if you need several. We want you to remain comfortable and relaxed in our care, and sometimes that means visiting us multiple times instead of getting all of the work completed in one sitting. We'll always consult with you on your care frequency.
How do I know if I need a root canal?
If you need a root canal, you'll likely be recommended for the treatment by us or another dentist. If you currently have a dead or damaged tooth, the best thing to do is to undergo a root canal if the tooth is dying or decaying. This can help preserve the bone and ensure that it remains strong and not compromised. Sometimes, a patient who undergoes a root canal will eventually need a crown placed over it.
Need a Consultation?
If you suspect that something is wrong with your tooth or it is beginning to change colour, contact Go Dental Surgery straightaway to schedule an exam. We're open late and are an in-network insurance provider.
CONTACT US

*Any invasive or surgical procedure may carry risks. Before moving forward, it is recommended that you seek a second opinion from an appropriately licensed medical professional.

Root Canal Therapy Gosnells, Maddington WA | (08) 9398 1427