Clear Braces and Orthodontics
Are crooked teeth causing you embarrassment? A misaligned smile can lead to other concerns like worn enamel, increased tooth decay or even gum disease. At Go Dental Surgery, our Gosnells family dentists provide clear braces and orthodontics to correct your mild to moderate crowding.
The ClearSmile Choice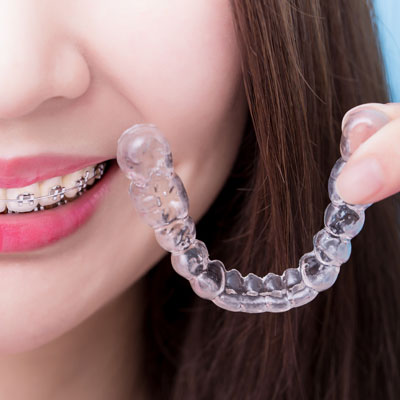 ClearSmile Brace is a removable alignment tray system that is similar to Invisalign®. The fitted aligners reduce mild to moderate crowding without the need for metal brackets or wires.
Most people can straighten their teeth without anyone else knowing that you're having orthodontic treatment. Depending on the severity of your needs, the entire process can take anywhere from six to 24 months to complete.
Convenient Inman Aligners
Inman Aligners are a fast and effective way to straighten crowded front teeth. The appliances look similar to a traditional retainer and do involve having a few brackets at the front of your mouth. As a result, results are achieved fairly quickly. It's not uncommon to see an improvement in as little as six weeks.
Myobrace Therapy
Straighten your teeth naturally with Myobrace therapy offered right here in Gosnells.
Frequently Asked Questions
Am I a candidate for clear braces or traditional metal wires?
Clear aligners are typically better for patients who have slight tooth misalignment, slight crowding or slight gaps in between their teeth. Traditional metal wires can be ideal for patients with severe crowding, jaw or misalignment issues.
Which treatment is faster-clear aligners or metal braces?
This is greatly dependent on the severity of your teeth alignment. For someone with slight misalignment, clear aligners may correct their issue in just a few months, where as someone with severe misalignment may fair better with traditional metal braces. We'll let you know which is best for you at your first appointment.
How long will I need to wear braces for?
The time length of your treatment greatly depends on the misalignment of your smile and specific oral health needs. Because each patient is unique, it's difficult to pinpoint an exact treatment time until we're able to see you in person. We'll always be entirely open with you about the extent of your required care plan.
At what age can my child get braces?
Whether or not your child is ready for braces depends less on their age and more on their jaw and teeth development. A child typically must have their adult teeth in before braces can be placed. When you visit us for an appointment, we'll let you know the appropriate timeline for your child if braces is an option for them.
Depending on the type of orthodontic aligners or braces that you choose, treatment can range between $1,500 to $4,500 to complete.
Are payment plans accepted for braces?
Our team knows that orthodontic treatment of any kind can be pricey-but we strive to ensure care is affordable and possible for patients of all walks of life. We're proud to participate in payment plans and will go over the options with you during your first visit with us. We encourage you to ask any questions you may have so there aren't any surprises.
How Can We Help?
Go Dental Surgery offers convenient payment programs and is an in-network provider. Contact us today to schedule a consultation. Be sure to ask about our 0% financing option.
CONTACT US

*Any invasive or surgical procedure may carry risks. Before moving forward, it is recommended that you seek a second opinion from an appropriately licensed medical professional.

Orthodontics & Invisible Braces Gosnells, Maddington WA | (08) 9398 1427