Professional Teeth Whitening in Gosnells
Do you avoid smiling due to tarnished or discoloured teeth? If you'd like to get a picture-ready smile, we can help at Go Dental Surgery. Our dentists use Pola® Office professional teeth whitening products to brighten your smile in just one visit. It's the perfect way to improve your appearance when you want to look your best for an upcoming special event.
Whiten Your Teeth Fast, In Chair or Take Home Kit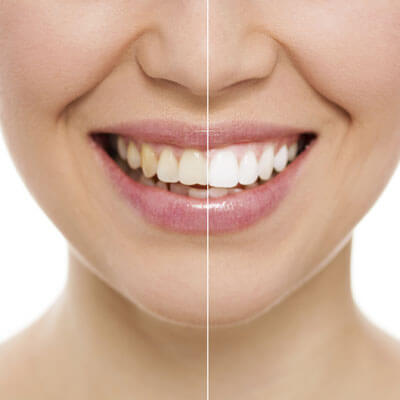 With its strong and effective 35% hydrogen peroxide formula (which means it can only be applied by a dentist), Pola gives you effective whitening results in a surprisingly short time in our dentists' chair.
Treatment time for Pola Office is just 30 minutes with total chair time about an hour. With this professional whitening treatment, you can quickly brighten your smile during your lunch break, on a Saturday or during our evening hours.
We also offer take home kits, making it easier to perform the treatment in the comfort of your own home!
Avoid Sensitivity
Pola Office also contains a built-in desensitising agent that works to permeate your nerve endings, block transmission of sensitive nerve impulses, and provide you with a much more comfortable experience. This agent also helps to reduce the chance of sensitivity in your teeth and gums after your procedure.
Frequently Asked Questions
How long will my teeth whitening results last?
How long you'll maintain your whiter smile will depend on what you choose to eat and drink. Coffee, tea and red wine, in particular, can diminish your smile's brightness more quickly than if you don't consume them. Touch-up kits can be used to maintain your brighter smile. By caring for your sparkling pearly whites, you can enjoy a brilliant smile for two years or more.
Is Pola teeth whitening treatment safe?
Yes; the treatment is highly safe, and
our dentists
always will use Pola whitening products according to the instructions. Your tooth structure will not be damaged in any way.
Are there any side effects from tooth whitening?
Most people won't experience any long-term side effects from using Pola products when they're used in accordance with the instructions. Though you may have some temporary sensitivity that will dissipate over a few hours. Another way to reduce any sensitivity following whitening is to refrain from consuming soft drinks or citrus fruits.
Can I receive results from purchasing a teeth whitening gel or paste from a supermarket?
While it's commonplace for patients to choose teeth whitening solutions like mouth rinses or toothpastes, it's important to know that they will not come close to offering the professional results that are desired from visiting our practice. If you want to achieve a brighter smile in a short period of time, we recommend booking a visit with us.
Most of our patients find teeth whitening to be extremely tolerable and not painful at all. Some patients report slight sensitivity following the appointment, however that typically resolves in the coming hours.
How long will a teeth whitening appointment last?
Results of teeth whitening can last for months or years. It all depends on how well you take care of your teeth!
Can I whiten my teeth at home?
Absolutely. If you'd like to whiten your teeth at home, we can discuss making custom trays for you and purchasing medical-grade gel that allows you to obtain a brighter smile from the comfort of your own home. Best of all, this is a safe and effective option!
*Any invasive or surgical procedure may carry risks. Before moving forward, it is recommended that you seek a second opinion from an appropriately licensed medical professional.

Teeth Whitening Gosnells, Maddington WA | (08) 9398 1427