Crowns and Bridges
If damaged or missing teeth are inhibiting your desire to smile or talk with confidence, we offer high-quality dental crowns and bridges. Imagine being able to eat and laugh with ease. Not only do these cosmetic restorations resemble and feel like a natural tooth, but they are also comfortable and durable.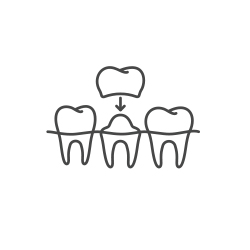 Single-Tooth Crowns
There are instances when a tooth has structural damage that is so severe that it can't be repaired with a new filling. A dental crown can fix a crack or be used for a cavity that's too large for a filling.
A crown is often called a tooth-shaped 'cap' which is placed over the tooth to preserve its strength and composition, and give it a more aesthetically pleasing appearance. During the first step of the process, your dentist will take off any enamel that's decaying or cracked. We then will take an impression of the tooth, and forward it to the laboratory where the crown will be custom-made. We use only safe and highly durable materials for our crowns. They will be colour-matched to your teeth.
Once we get the crown back from the lab, your dentist will bond it in place to conceal the visible portion of the tooth (from the gum line and up). The entire procedure, from impression-taking to bonding the crown, only takes two visits to complete.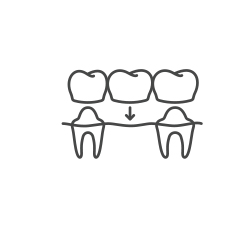 Fixed Bridges
Bridges are ideal for closing gaps resulting from one or more missing teeth. Crowns are used to attach the end of the bridge to two or more reinforcement teeth on either side of the gap. In the middle of these support crowns are one or more false teeth (pontic), closing the gap with what resembles a natural tooth.
Though we use durable, high-quality materials to fabricate all of our cosmetic restorations, they still need to be cared for properly to make sure they last for a long time. Brush at least twice a day, floss daily and come in for biyearly checkups to maintain your crown or bridge.
Want to Learn More?
Contact Go Dental Surgery today book an appointment and find out if you are a good candidate for a bridge or crown.
*Any invasive or surgical procedure may carry risks. Before moving forward, it is recommended that you seek a second opinion from an appropriately licensed medical professional.

Dental Crowns and Bridges Gosnells, Maddington WA | (08) 9398 1427