What to Expect at Go Dental Surgery
Our Gosnells dentists want your dental experience at Go Dental Surgery to be pleasant and relaxing.
We provide gentle quality care that is customised to meet your individual needs. We take a holistic approach and evaluate you as a whole person.
You are greeted by name and treated like family from the moment you walk through the door. Your dentist will greet you in the waiting area and welcome you back to the dental exam room to begin getting to know you better.
Your First Visit
On your first visit we enjoy getting to really know you and discussing your goals for your oral health. We will thoroughly review your medical history as part of our holistic approach to assessing your health.

You may print and complete this medical history form ahead of time and bring it with you to your appointment. Please also bring a list of medications you are taking as well as any health fund card, Medicare card or Veteran's card you may have.
Your dentist will then perform a comprehensive exam complete with digital X-ray imaging so that they may fully diagnose any needs your may have. You will receive customised treatment plan options and we will discuss in detail all options with you. We encourage you to ask questions so that you are fully aware of what your best course of treatment should be.
It is our goal to help you have a beautiful, healthy smile that will last a lifetime. Please allow an hour for your first visit at Go Dental Surgery.
Prevention Is Key
Providing proper education and oral home care instruction is vital to obtaining and maintaining healthy teeth and gums. We will take the time to fully assess your needs and will educate you on proper brushing and flossing using models and showing you in your own mouth. We stress the importance of routine dental visits for checkups, diagnostic X-rays and cleanings.
Affordable Care
Quality dentistry shouldn't cost a fortune. In our effort to make dentistry an investment that you can afford, we gladly accept dental insurance and participate in other dental benefit programs.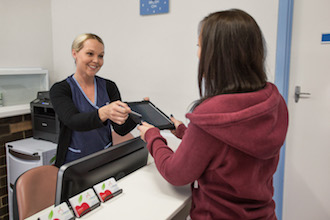 All private dental health fund cards are accepted. These can be processed on the day of treatment on our HICAPS terminal.
Our dentists are HBF and HCF preferred providers.
"No gap" dental treatment for children aged 2-17 years under the Medicare CDBS Scheme (Child Dental Benefits Schedule) to the value of $1,052 over two years.
We provide dental treatment for Veteran Affairs' patients.
We are DHS (Dental Health Services) providers for eligible health care card- holders for government-subsidised dental treatment.
To further assist in making treatment more affordable for our patients, we offer the following, which is unique to our practice:
Dental Care Membership – Benefits of our membership include complimentary routine hygiene care and 10% off all dental treatment.
Payment plan options – this interest-free option allows you to put your dental work on lay-by for only a $39 setup fee
We Accept All Health Funds With HICAPS On Site
Preferred Providers for:

Contact Us Today
For a truly unique and personalised dental experience, call (08) 9398 1427 today. We look forward to serving you.
CONTACT US
*Any invasive or surgical procedure may carry risks. Before moving forward, it is recommended that you seek a second opinion from an appropriately licensed medical professional.

New Patients | (08) 9398 1427