General Dentistry
At your first visit to Go Dental Surgery, one of our Gosnells family dentists will meet with you to discuss your primary concerns and how we can help. In most cases, oral health begins with preventative visits to achieve and maintain healthy teeth and gums.
Dental Checks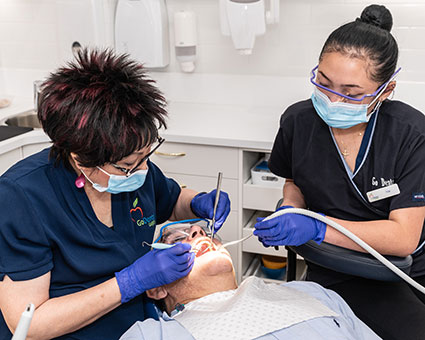 During your exam, one of our dentists will assess areas of your teeth that may need to be restored or protected, such as with a filling or crown. If there is something we can do to replace a missing tooth and make your bite function better, we will share that information with you.
Scale and Clean
Healthy gums are the foundation for having teeth that last for life. We recommend a routine clean every six months for our healthy patients. If you are at a high risk of gum disease, we may need to see you as frequently as every three to four months.
Protective Dental Sealants
The deep grooves of back teeth are at a high risk of staining and cavitation. Sealing the tooth can help to keep the area clean and avoid unwanted decay. In most cases, we recommend placing sealants on younger patients, soon after the first and second sets of molars erupt.
Fluoride Treatments
After your clean, we will recommend a fluoride treatment to reduce your risk of sensitivity and cavities.
Digital X-rays
Diagnostic radiographs play an important role in screening for decay. Depending on your risk factors, we may need to take X-rays every 12 to 24 months.
Restorative Fillings
Our fillings are available in both white and silver. We will discuss the benefits of each material with you so that you can select the one that is appropriate for your unique needs. Usually, our patients choose white fillings, as they are less invasive and blend with the colour of the surrounding tooth.
TMD Treatment
Jaw pain. Headaches. A clicking of the jaw joints. Difficulty opening your mouth. People who suffer from TMD not only experience pain but also a reduction in their quality of life. We offer effective solutions to address your TMD.
Wisdom Tooth Removal
Also called the third molars, wisdom teeth erupt sometime between the late teens and early twenties. During this time, it's a good idea to have your teeth assessed to determine if they require removal.
New Patients Are Always Welcome
Routine care provides our Gosnells dentists with the opportunity to monitor your smile before bigger problems develop.
Contact Go Dental Surgery today to schedule your first visit with us. Please plan to allow for approximately one hour for your check and clean. Insurance plans are welcome, and claims are filed straightaway.
CONTACT US
*Any invasive or surgical procedure may carry risks. Before moving forward, it is recommended that you seek a second opinion from an appropriately licensed medical professional.

General Dentistry Gosnells, Maddington WA | (08) 9398 1427